minikutumedia.com – Musisi asal Nigeria Fireboy DML berkolaborasi dengan superstar, 4x peraih penghargaan GRAMMY award, Ed Sheeran untuk remix smash hit "Peru" via YBNL Nation / EMPIRE. Dirilis pada bulan Juli, single dan videonya rilis beberapa minggu sebelum Fireboy memulai first-ever Apollo U.S. tour pada bulan Februari.
Diperkenalkan dengan perkusi berirama, single ini memiliki lirik yang khas "Peru, Para." Fireboy menceritakan cerita tentang seorang wanita yang terus menerus menarik perhatiannya saat dia melakukan perjalanan dari Jozi, Miami ke San Francisco. Dengan visual yang disutradarai Gabriella Kingsley, Fireboy dan Sheeran bertemu di sebuah warehouse party di London saat Sheeran masuk melalui tangga sambil bernyanyi, "pour up the bottle I wanna level up. When I'm with you I never get enough. Slow whine, I'm not in a rush" memengaruhi seluruh dancehall melalui vokalnya yang khas. Sepanjang video, keduanya saling memberi energi positif untuk menciptakan duo yang tak biasa dan menawan.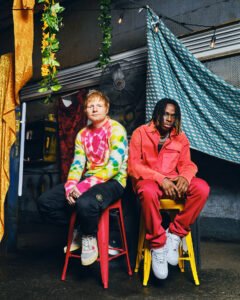 Tentang Fireboy DML : Dijuluki 'masa depan' Afrobeats, Fireboy DML mulai dikenal di dunia musik 2019 dengan album debutnya Laughter, Tears & Goosebumps. Project ini menghasilkan serangkaian single yang menonjol seperti 'Jealous', 'Scatter' dan 'King' yang menarik perhatian penggemar musik di seluruh dunia dan dengan mulus menyatukan kecakapan lirik, fleksibilitas vokal, dan penyampaian anak muda berusia 24 tahun ini.
Album ini mempertahankan posisi #1 di tangga lagu Nigeria selama lebih dari 12 minggu dengan 'Jealous' menjadi salah satu lagu yang paling sering diputar di stasiun radio Afrika tahun itu. Hingga saat ini, 'Laughter, Tears & Goosebumps' telah mencapai lebih dari 250 juta streaming dan membuatnya memenangkan penghargaan Pilihan Pendengar yang didambakan di Soundcity Awards 2020 di Lagos.
Pada Agustus 2020, Fireboy DML merilis album studio keduanya yang memenangkan penghargaan Apollo, mencapai Top 10 iTunes AS pada minggu pertama dan mengumpulkan lebih dari 320 juta streaming hingga saat ini. Baru-baru ini, Fireboy DML merilis single hit "Peru" dan sejak itu telah mengumpulkan lebih dari 75 juta streaming yang mencapai #1 di tangga lagu Afrobeats resmi di Inggris dan masih menduduki puncak tangga lagu di setidaknya 22 negara sejak dirilis pada bulan Juli, termasuk Nigeria, Tanzania, Liberia , Jamaika, Prancis, Kenya, Irlandia, dan lainnya