www.minikutumedia.com – Gitar yang pernah dipakai oleh Kurt Cobain, vokalis serta gitaris band Nirvana akan dilelang. Harga awal untuk pelelangan gitar ini sekitar US$ 1 juta atau Rp. 14,9 miliar. Gitar akustik Martin D-18E 1959 yang berdesain klasik itu pernah dimainkan oleh Kurt Cobain saat tampil di acara 'MTV Unplugged' pada 18 November 1993, 5 bulan sebelum kematiannya yaitu pada 5 April 1994.
Pelelangan gitar ini juga disertakan dengan hardcase asli yang dihias khusus oleh Kurt Cobain dengan pamflet album band punk rock Poison Idea, Feel The Darkness.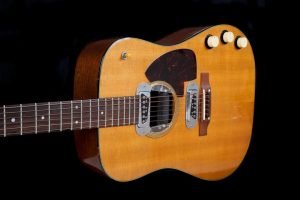 Penampilan Nirvana saat itu disebut sebagai aksi terbaik dalam sejarah live music. Nirvana membawakan beberapa lagu hits mereka diantaranya About A Girl, Coem As You Are serta lagu The Man Who Sold the World.
Bagi para penggemar, gitar akustik milik Kurt Cobain ini akan bisa dilihat di jendela Hard Rock Cafe Piccadilly Circus mulai tanggal 15 hingga 31 Mei.
Pelelangan gitar akustik milik Kurt Cobain ini akan dimulai pada taggal 19 Juni mendatang. Namun bagi yang ingin mengikuti pelelangan diperlukan registrasi awal melalui website Julien's Auctions .