minikutumedia.com – Adrian Khalif kembali merilis single terbarunya berjudul Warm Sheets, setelah sebelumnya merilis lagu Khilaf. Kalau sebelumnya kita bisa mendengarkan pendewasaan Adrian dalam bermusik, kali ini kita akan makin bisa memahami kejujuran Adrian Khalif menyebarkan rasa sayangnya melalui Warm Sheets.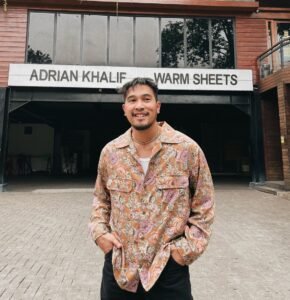 Single Warm Sheets menceritakan kalau bentuk murni dari sebuah cinta adalah kehangatan. Kehangatan yang diwakili oleh selimut, menceritakan bagaimana seseorang akan melakukan apapun untuk orang yang mereka cintai. Mulai dari cinta kepada istri, pasangan, keluarga,teman, sampai anak yang dikasihi. "It's the purest form of love…universal love," sebut Adrian
Khalif dalam memaknai lagu terbarunya, Warm Sheets.
Saat menulis lagu ini, Adrian Khalif mengatakan kalau dia kembali mengingat bagaimana cinta yang sang Ibunda berikan kepadanya saat masih kecil. Dan perasaan itu pun dia rasakan saat akhirnya Adrian sendiri menjadi orang tua. Dia mengatakan kalau cinta orang tua kepada anaknya tidak akan bisa diambil oleh siapapun. Dan dia menulis Warm Sheets membayangkan
bagaimana dirinya menyayangi sang buah hati, sambil mengingat cinta yang dia terima dari sang Ibunda. Bagaimana perasaan hangat orang tua, kepada anaknya.